Legacy is a shop focused on not only creating beautiful, reclaimed handcrafted decor, art, and furnishing, but a company focused on reclaiming those in our communities that have lost their way.
A portion of all proceeds go to local charities.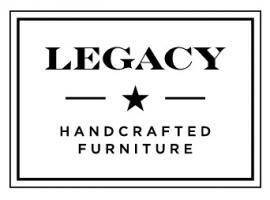 Legacy has been in operation for 6 years. Designing and building reclaimed home decor, restaurant decor and basically any furnishing you can think of. We are focused on providing the highest quality product on the market both in design and construction. Our journey has taken us from a backyard shop to a facility with thousands of square feet that provides us the ability to do almost anything we can dream up. Clients can contact us to fulfill almost any need for home, office or commercial space.

Legacy Building is amazing. I ordered a "state" sign from them, and it was done 3 days early. I received emails throughout the process, letting me know exactly what I needed to do. Payment was easily made through PayPal. I love the communication from Legacy. And then, of course, the workmanship is beyond amazing. So far, all I have bought is the state sign, but you better believe I will be coming back for some furniture pieces. Their work is amazing. Legacy Building should be your first call for any custom furniture pieces!

I am impressed more and more everyday with the creativity and uniqueness that Blake and his Legacy team come up with! Gone are the days to buy cookie-cutter furniture. Legacy's mission to create handcrafted, heirloom furniture that will allow you to tell stories for a lifetime means so much more to me! Blake has a heart of gold and it is reflected in his work and the way he runs his business--with all of his heart. Invest in Legacy, you will not be disappointed!

I had a great experience working with Blake and the Legacy Building team. I ordered a Kentucky State sign for my father for Christmas. From the start Blake was great to communicate with and answered any question or need I had. The production was fast, even during the Christmas rush! Even with the fast production, no quality of the product was sacrificed. The state signed turned out beautifully. My father loved the uniqueness of the gift. Top notch service and work. I look forward to ordering more gifts in the future! This group is the real deal!

Shipping: Ships anywhere in the USA for $35.
Returns: Customers have 7 days to return any item.
Gift Messaging is Available.
RECEIVE 10% Off Your First Order
Be the first to know about special promotions, travel tips, and more